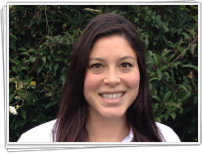 Erin obtained her Bachelor of Science in Psychobiology in 2008 from the University of California Los Angeles, and later received her Doctor of Physical Therapy degree in 2013 from Mount St. Mary's University in Los Angeles. She has worked as a musculoskeletal physiotherapist for the past six years both in the USA and in Oxford. Her primary clinical focus is on musculoskeletal rehabilitation but she has completed internships in both transitional rehabilitation and neurological settings. She is a member of the Chartered Society of Physiotherapy and the Health and Care Professions Council.
Erin moved to Oxford in 2015 and began working for OxPhysio that year. She has seen patients of all age ranges and has helped rehabilitate a variety of injuries, from degenerative to chronic repetitive strain problems to traumatic accidents. She finds great joy in helping patients improve their quality of life and reach their goals and is a highly regarded member of our team. Erin is an avid volleyball player, and has experience playing and coaching both indoor and beach volleyball. Erin is also an APPI trained pilates instructor and teaches pilates classes every Monaday for OxPhysio and offers individual pilates classes as well.
Whilst working in Oxford Erin has been part of the Physiotherapy Research Unit led at the Nuffield Orthopaedic Centre. She has been involved with several studies in the department, including PROVE (Physiotherapy Rehabilitation for Vertebral Fracture), KAPPA (Knee Arthroplasty Patients Predicted versus Actual Recovery) and the CORKA Study (Community Based Rehabilitation after Knee Arthroplasty). Erin has also co-authored three published studies. She is currently undertaking a Phd at Oxford Brookes University aiming to explore sagittal spine deformity and how it affects functional movement.