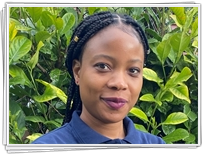 Maka qualified as a Physiotherapist from the University of Zimbabwe in 2017 and immediately specialised in musculoskeletal physiotherapy. She initially gained experience working with children with cerebral palsy, spinal cord injuries and clubfoot and helped educate their caregivers to continue with regular management plans. She spent the next two years of her career working in a specialist trauma hospital, assessing and treating patients who required orthotics, prosthetics and wheelchairs. She worked in intensive care, on the wards, in out-patient departments and provided home visits where necessary. She has worked closely with a company called Ottobock which provides prostheses for disabled clients. She has developed good communication skills with other disciplines including medics, radiographers, speech therapists and occupational therapists. Maka's experience as a physiotherapist includes both private practise and sports physiotherapy. She has worked with the Zimbabwe rugby team as well as assisting cyclists in training and rehabilitation following injury. Maka is trained in the ponseti management of clubfoot and has qualifications in hand therapy rehabilitation too.
Maka moved to the United Kingdom in June 2021 and since then she has worked in NHS Musculoskeletal Physiotherapy Departments and sports teams in Oxford and London. Maka is currently working with Healthshare and also with the Oxford Hinskey Rugby club as their team physiotherapist.
Maka applies her broad experience to tailor patient specific solutions as well as offering a holistic approach of patient-based care. In her spare time Maka enjoys staying fit and participates in yoga. She is also an avid reader of non-fiction and current affairs books as well as enjoying socialising outside of her busy work schedule.