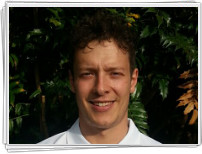 Sam's interest in fitness and well-being started at a very young age. He represented England in Inline Hockey, Southern England in Ice Hockey and competed Nationally in golf; where he was a scratch player at the age of sixteen.
Sam graduated in 2010 with a honours degree in Sports and Exercise Science and in 2013 he completed his masters in Physiotherapy alongside gaining qualifications in golf and football coaching and personal training. Sam has worked as a senior musculoskeletal Physiotherapist for many years in the private sector and NHS; both in Oxford and London. From 2017 to 2019 he spent two years working at renowned clinics in Wellington, New Zealand and Melbourne and Sydney in Australia.
Sam now works as a First Contact Practitioner within primary care, seeing musculoskeletal caseloads for General Practitioners (GP) as well as a developing Extended Scope Physiotherapist. These roles involve complex patient management, ordering ultrasound, x-ray and magnet resonance imaging (MRI) and working closely with Consultants in Orthopaedics, Rheumatology and in the Pain clinic. Sam is also qualified to provide intra-articular and muscular corticosteroid injections for a wide range of musculoskeletal conditions.
"The most refreshing thing about my job is meeting new people and helping them get back to doing the things they love. I love making every patient realise that I care about them, their worries and their goals"
Fun fact - Sam represented the NHS in 2012 by dancing in the Olympic opening ceremony!