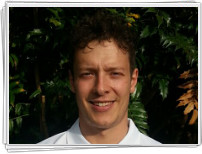 Sam's interest in fitness and well-being came about at school where he excelled in a number of sports including roller hockey, ice hockey, tennis and golf. He recognised that strength, stability and balance were vitally important when competing at a high level and his interest in the human body gave him the incentive to help train members of his family and friends back to full fitness after injury or illness.
Sam graduated from Gloucester University in 2010 with an Honours Degree in Sports and Exercise Science. He then worked as a fitness instructor in a variety of health clubs before providing musculo-skeletal rehabilitation at BMI Healthcare. Through his work as a personal trainer, Sam developed a particular interest in helping clients recover from injury and disability and so he decided to study a Masters Degree in Physiotherapy. Sam completed his Masters in Rehabilitation Science (Physiotherapy) in 2011 at Brighton University and wrote his dissertation on the physiotherapeutic treatment of the frozen shoulder. These qualifications, alongside Personal Training, enable him to work holistically with each client to achieve their goals. Sam's philosophy is that physical activity is a vital aspect of a healthy, balanced lifestyle and helps the body to function well at all stages of life. He uses his knowledge and expertise as a Physiotherapist to ensure every aspect of health and well-being is covered during his training sessions. Sam is passionate about strength and conditioning, exercise and a wide variety of sports, he has had experience with Manchester United & Oxford United football clubs as well as in semi-professional Rugby.
Since graduating, Sam has completed his APPI Certified Pilates course and is now teaching Pilates classes on a regular basis. Sam can vary his training sessions from week to week, offering many different programme styles such as:
Yoga style stretch and balance sessions
An intense full body workout
Core strengthening/pilates based regimes
Rehabilitation programmes following injury
Weight loss programmes
...And many more!