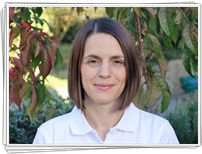 Rachael qualified as a physiotherapist from Coventry University in 1995 and has worked in the NHS since then gaining experience in a wide range of specialities. Since 2005 she has worked in a NHS multidisciplinary community team visiting patients in their own homes, residential and nursing homes in South Warwickshire.

Rachael has experience treating a wide variety of conditions including musculosketal injuries, neurological conditions, falls, chronic respiratory conditions, rehabilitation following orthopaedic surgery / fractures, dementia and management of long term conditions. She has a particular interest in the management of elderly patients.The focus of her treatment is to promote an individual's independence at home and regain their confidence and quality of life. Rachael is happy to provide rehabilitation following a hospital admission or a fall to help patients regain strength, stamina and confidence to allow them to return to their previous level of activity. Treatment sessions working on functional everyday actives, including transfer practice, gait re-education and home exercise programmes.

Rachael practices yoga herself and is interested in incorporating yoga exercise and principles into my physiotherapy practice. She is hoping to be able to offer some group exercise classes based around Yoga and/or Thai chi for OxPhysio in the near future.