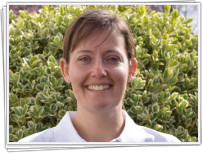 Mandy completed her physiotherapy degree from Coventry University in the year 2000 and enjoyed a 13 year career in the NHS. She began working in the community in 2004 and has developed expert skills as a domicillary physiotherapist, visiting and working with patients in their own homes across South Warwickshire, North Buckinghamshire and Oxfordshire.
Mandy has been involved in the treatment and management of long term conditions, particularly those associated with older people. She has treated a wide range of conditions, covering musculoskeletal injury through to chronic respiratory conditions, but with a particular interest in elderly care. Rehabilitation following a fall and/or hospital stay can help patients remain independent and living in their own homes. Focusing on strength, balance and regaining confidence in completing everyday activities, she believes in an ethos of living well for longer.
Having always had an interest in health promotion and healthy living, Mandy holds a part time role in public health and continues her physiotherapy career in private practice.